TORREFACTION:India's First Rotary Torrefaction Unit to make Bio-Coal
Torrefaction is a thermal process to convert biomass into a coal-like material.
involves the heating of biomass in the absence of oxygen to a temperature of typically 200 to 300°C
Resultant product has better fuel characteristics than the original biomass.
simplified storage of the torrefied material.
Minimal biological degradation and water uptake
makes biomass friable (80%-90% less energy consumption for grinding).
Transport and material handling is less expensive & easier
Significant loss of energy due to re-absorption of moisture in biomass (pellets) is saved
Low O/C ratio
Smoke producing compounds remove
Homogeneous output from mixed biomass
Easier Pelletisation
Torrefied pellets have more strength
Economics are in favour
TORREFIED WOOD PELLETS COMPARED TO COAL
| CHARACTERSTIC | COAL | TORREFIED WOOD PELLETS |
| --- | --- | --- |
| Heating Value | 18 GJ/T | >22 GJ/T |
| ASH | 20-30% | <3% |
| Sulphur | 3-5% | >0.01% |
| Nitrogen | 1.5-3% | <0.1% |
| Chlorine | 0.05% | >0.01% |
TORREFIED BIOMASS/PELLETS
Compared to charcoal the retained volume of bio mass is more than 2 times and without the emissions associated with charcoal production and usage.
VOCs & hemicellulose are combusted to generate process heat required to sustain the process.
Warm lignin acts as a binder if TB is pelletized.
Depending on the process time, the TB yield varies between 85% to 95%
Energy density increases as ~70%-80% biomass remains with 90% of its original energy content where the original moisture is less ~90% biomass remains with 100% of its original energy content.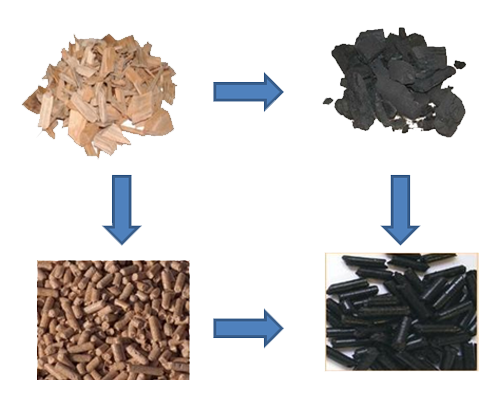 We provide integrated sioutions from stage of raw material selection to equipment, to process know how, turnkey implementation and operational management as well as buy-back of torrefied pellets including made from rice straw.