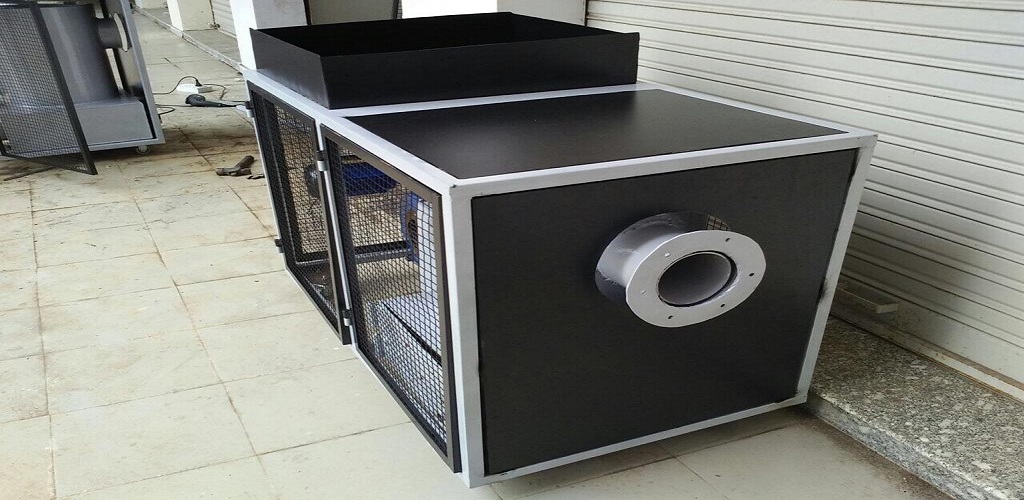 INDUSTRIAL PELLET BURNER
High combustion efficiency.
Auto-ignition of pellet fuel.
Easy cleaning of ash.
Optimal fuel to air ratio for torrefyer and clinker free operation.
Retro fitting in existing systems, possible as well within few hours.
Low cost.
Spreader systems for auto feed of pellets to replace diesel, furnace oil, LPG or briquettes.
| S No. | Stove Model | Capacity | Fuel |
| --- | --- | --- | --- |
| 1 | MODEL NE-150 | 1 Lakh KCal/Hr | 25 kg/Hr |
| 2 | MODEL NE-2000 | 2 Lakh KCal/Hr | 50 kg/Hr |
| 3 | MODEL NE-300 | 3 Lakh KCal/Hr | 75 kg/Hr |
| 4 | MODEL NE-400 | 4 Lakh KCal/Hr | 100 kg/Hr |
| 5 | MODEL NE-500 | 5 Lakh KCal/Hr | 125 kg/Hr |
| 6 | MODEL NE-600 | 6 Lakh KCal/Hr | 150 kg/Hr |
| 7 | MODEL NE-600 | 8 Lakh KCal/Hr | 200 kg/Hr |
| 8 | MODEL NE-600 | 10 Lakh KCal/Hr | 250 kg/Hr |
| 9 | MODEL NE-600 | 12 Lakh KCal/Hr | 300 kg/Hr |
Target Industries for Pellet Burner
| Snacks Industry | Sweets Making |
| --- | --- |
| Paint Shop Ovens | Bangles Making |
| Metal Smelting:Aluminium,Lead,Zinc etc... | Dairy Industries |
| Plastic Mouldings | Replacing Thermic Fluid Heater |
| Powder Coating | High Tempreture Furnace-Annealing/Hardening |
| Varnishing | Preheat Of Iron & Steal |
| Teflon Coating | Sand Blasting |
| Electrode Drying | Bitumen Mixing |
| Electrode Plating | Textile Dyeing |
| Paint Baking | Bakery Ovens/Rotary |
| PVC Granules Drying | Baby Boilers |
| Spices Drying | Plastic Extrusion |
| Dry Fruit Drying | Hot Air Generaors(Printing & Lamination) |
| Pottery Paint Drying | Soap & Detergent Industry |
| Grains Drawing | Chemical Industry |
| Corrugated Boxes | Jwellary Processing |
| Laundry/Dry Cleaning | Hot Water Generator |