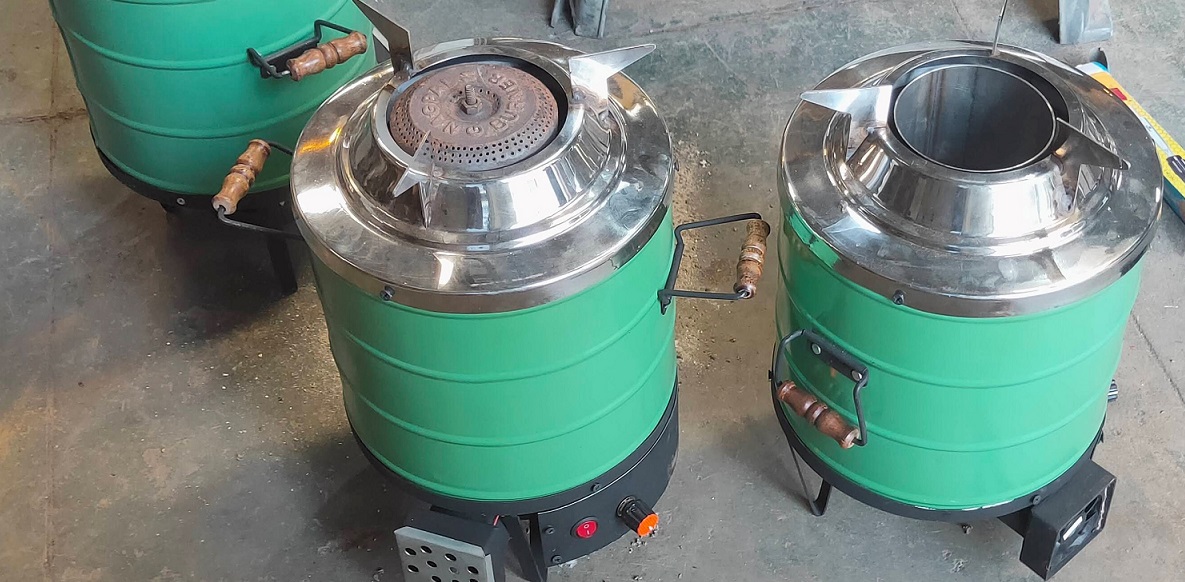 Have the largest range of domestic and community cook stoves which are tier IV compliant.
All our stoves are gasification stoves with linear flame control, rechargeable battery back, optional solar panel attachment One Kg of LPG is replaced by 2.5 Kg of our pellet fuel, thereby providing savings of about 50%. In addition the cooking time is lesser than when using LPG stove.
Continuous Feeding Stove Features
Internal chamber is made of special grade material and can take 1600 Degree C
Automatic pellet feed mechanism with DC support
No combustion, 100% gasification
Un-paralleled linear flame control
Slide out grate at bottom as well as sliding ash tray for ease of ash removal.
Warranty on stove for 24 months except for the electric components for 6 months
All have including battery backup including the CFG (Continuous Feeding Gasifier)
Highest heat retention capability due to chamber design
No fly ash particles during operation
Smokeless & uniform Flame
No blackening of utensils with Nugreen Solid Biofuel
Highest combustion efficiency leading to maximum savings
Multiple application for cooking, frying, sweet processing, Boiling, Snacks etc.
Domestic gasifier Cook stoves:
High energy efficiency. Meets international tier IV norms.
LPG Like burner top.
Smokeless operation.
Durable ss combustion chamber.
Faster cooking than LPG.
Savings when compared to LPG.
Linear flame control
Fast ignition with our igniting aid.
Launched Internationally.
| S No. | Stove Model | Fuel Capacity | Operational Time | Usage |
| --- | --- | --- | --- | --- |
| 1 | 1 kg Domestic Stove | Up to 1.0 kg | 90 Minutes | For Household Cooking |
| S No. | Stove Model | Fuel Capacity | Operational Time | Usage |
| --- | --- | --- | --- | --- |
| 2 | 5 kg Community Stove | Up to 5 kg | 180 Minutes | Cooking For 30 To 40 People |
| 3 | 10 kg Community Stove | Up to 10 kg | 210 Minutes | Cooking For Upto 100 People |
| 4 | 20 kg Community Stove | Up to 20 kg | 240 Minutes | Cooking For Upto 350 People |